Will they show up on time? Do they have insurance in case something goes wrong? How much experience do they have? Do their employees work for them or are there a bunch of random subcontractors about to come into my home that I know nothing about?
These are all extremely important questions (to name a few – more on that later) to ask before jumping headfirst into your home renovation. In this day and age, anyone can slap some paint on their back, and call themselves a zebra, but how do you know that they really know what they are doing?
It all starts in the prep work.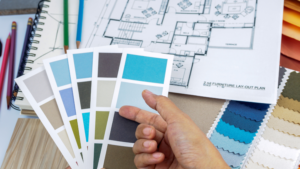 The most important part of the deciding to do a home remodel is knowing what you want and the vision you have in mind. You want to have a plan and know what space you want to remodel and what you want done to that space. If you jump into a remodel project before knowing exactly what you want and the details of the finished look you're going for, how will your contractor know your expectations?

Helpful questions to ask yourself when re-thinking your space include "What is my space lacking that I currently need?", "What will take this space to the full potential make it as functional as possible?", "What can I change in here to make my home suitable for my lifestyle?"

Making sure you have an idea of your budget, color choices, material selection and hardware finishes is crucial. It is helpful if the contractor you choose to go with has a designer on their team to assist you in making your selections and can help bring the vision you have for your space to life. Many times, companies have designers on-staff that don't charge extra to provide their services. Put them to work so you can make sure you get exactly what you want!

Equally as important as knowing what you want, make sure to do your research on each company. Spending money on a home renovation isn't something to take lightly. You're spending your hard-earned money to ensure that you get exactly what you want out of your home, so it is more than worth it to spend the time researching who you're letting into your home. Here are a few places to start when researching contractors to tackle your project:
Check out their reviews from previous customers. Set up a time to go through the reviews with your contact at each company and address negative reviews to see how the situation was resolved.

Have a conversation with the contractor on the types of work they have done in the past. Have they done anything like your project before? How much experience do they have in this field? I promise you, the last thing you want is someone to come into your home and "wing it" through your remodel. You want a professional, who has done this job before and can easily combat any problems that may arise with ease. This is where experience comes into play. A newbie most likely won't know what to immediately do if a pipe breaks or if your tile floor isn't laying level. An experienced contractor has likely been through many of the problems that you could potentially run into and already has a solution before the issue occurs.
Look at the photos of the work they have done in the past. If you can't find any photos online, that's probably a bad sign. Any quality contractor will be proud to show off their work on their website and social media pages. Keep this in mind when deciding who to contact to give you an estimate. And if they don't have an online presence, RUN.
Ask friends and family who they have used in the past and who they trust. The best way to judge the quality of work is from firsthand experience!
ASK FOR REFERENCES! This seems like a taboo thing to do, but a quality contractor will be happy to send over a list of previous clients they have worked with for you to contact. Make a list of questions to ask when calling – what kind of work did you have done? Were you happy with the work that was done? Were there any hiccups along the way? Did the contractor stick to your budget/the agreed upon price? Would you share their contact information with someone close to you, like your mom or close friend?
Ask the contractor for a copy of their insurance policy. In case something bad were to happen, making sure they have insurance is a step you don't want to forget!
Make a list of other important questions to ask that are specific to you and your family.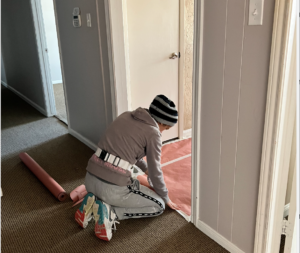 For example, I have two toddlers who tend to pick up anything and everything off the floor and give it a taste. Is the contractor I hire going to make sure my home is thoroughly cleaned up at the end of each day or am I going to have to worry about what they leave behind?
If you work from home, are you going to have to worry about loud music being played and potentially disrupting a phone call or important meeting? These are important things to make your contractor aware of, so your life isn't completely disrupted during your remodel.
Once the prep work is done and you've chosen a contractor, the real fun begins!
When looking for a remodeling contractor in Houston, consider reaching out to Texas Premier Property Solutions. We have an expert team who will walk you through every step of the process and keep your remodel running as smoothly as possible. We've been providing remodeling services for years and truly believe that experience makes all the difference in choosing the right team to take on your remodel. We guarantee that you will walk a way with an exceptional experience and finished product that you'll be dying to show off to your friends and family.